Buster Olney had a post on the Mariners (ESPN Insider Subscription is needed to read the article) in which he begins by talking about the 2011 Mariners' offense: "In the midst of the Seattle Mariners' historically bad offensive showing last summer, a professional scout learned that he had been asked to track Seattle for a few days, and he was upset about it. Aesthetically, he found them to be excruciating. "Can't stand watching them," the scout griped. "Their hitters have no chance. None."" Other than that quote, there isn't a lot of stuff in there that followers of this site wouldn't already know. I did find this juicy note from Olney interesting: "scouts think Smoak still needs to handle off-speed pitches better." This prompted me to look, and according to Fangraphs, pitchers throw Smoak less fastballs than any of the starting first basemen in the AL West (Pujols, Moreland, and Barton). This certainly implies that this is the scouting report that other teams have on Smoak.
I am sure everyone is tired of the "Figgins leading off for the Mariners" story/rumor (or at least I am), but David Pinto has a very interesting opinion on Figgins that I share:"Figgins is in the A.J. Burnett boat right now. The Mariners gave him a bad contract, and they either need to stop playing him regularly, or find a team to take him off their hands. Sticking Chone at the top of the order, unless he gives a very good indication in spring training he can get on base, just hurts the team.". Frankly, at this point, I would rather have A.J. than Chone because Burnett's peripherals (strikeouts, FIP and the like) were still pretty good even though his ERA was terrible in New York. The Mariners don't have the payroll flexibility the Yankees do, so its unlikely they could eat half of Figgins' contract just to make him go away, but the Pirates did give up a pitcher who threw 95+ MPH, and if the Mariners could get a return like that, it would be a spring training miracle. Considering Wedge's (and Z's silence on the matter) infatuation with Chone, I don't see anything like that happening. Just how bad was Figgins last year? His OPS + of 39 was the worst in baseball since 2000 for batters who had more than 300 plate appearances. Not only was Figgins awful, the Mariners kept playing him.
Other Mariners Notes: Rick Randall has a post on the top 10 Mariners prospects that need to perform in 2012. It is a great read, but I thought, in light of all the questions surrounding the Mariners 1st base situation, I would profile the two 1st basemen in the list:
Dennis Raben: Randall notes that Raben has had major injury problems in his minor league career. Raben was the 9th best prospect out of college according to Baseball America in 2008. This was probably over optimistic anyway, as his OPS was .894 at Miami, pretty low for a college offensive prospect. My minor league projection has him earning a .336 OBP and .847 OPS in the big leagues, so a average-below average OBP with a good slugging percentage. He seems to basically be a 1 tool player, with a 28 speed, 32 contact, but 90 power according to Baseball Cube's scouting rankings. There have also been concern about his defense, as his range factor is below average for a 1st baseman at 8.88. However, he has serious big league power (70 Power according to scouting ratings with the range of 20-80) at a .275 Isolated Slugging so far in the Minors. He has somehow mananged to have a .362 BABIP in the minors (.322 in college), and doesn't have much patience. He is between 200-220 pounds, so while he has good has good size, he has to show he can stay healthy and put together a few seasons in the higher levels of the minors. Here is some video: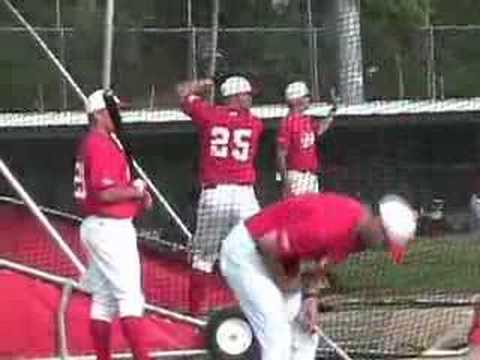 The second first baseman on the list is Rich Poythress, a former 2nd round pick. Rich also played division 1 college baseball, playing at the university of Georgia where he had much more impressive offensive numbers, with a .441 OBP and OPS of 1065. While having a lesser power profile than Raben (76 according to Baseball Cube), he is a much more complete hitter, with decent patience, batting tool, and okay contact rate. In 2011, he played 122 games in AA and was just okay, ranking as the 30th best player in his respective league, with a line of .267/.347/.416. He still had a nice walk rate at almost 10%, but he had an average at best home run rate. He is 24 years old, so the clock is ticking, and that is the risk with college players, they have less time to finish developing that high school players.
Also on Randall's list was former top prospect Carlos Triunfel, who once ranked as high as 62nd in Baseball America's top 100, but has struggled in the minors and projects to an OPS of just .531 in the Majors. Larry Stone had a nice write-up on him, as he enters big league camp with the GM and the manager raving about his tools. Yet like many "tools" players, he hasn't shown anything at the plate (Anthony Gose of the Blue Jays still roams top prospect lists despite not hitting anything yet in the minors, we will see how that plays out). Triunfel is still young, so there is at least a decent chance he will turn it around, but he will have to improve on his patience (Baseball Cube rates it at just 14!).
George Sherrill is finally supposed to start throwing his bullpen tomorrow. I guess I will believe it when he actually does.
The Yankees signed former Mariner Raul Ibanez to a 1.1 million dollars guaranteed MLB contract (with up to 4 million dollars in incentives). This leaves Johnny Damon, who has been linked to the Mariners, with one fewer option.
Here is some Ichiro batting practice courtesy of the Seattle Times.