I actually saw this a few weeks ago here, but knew nothing about it and decided not to include it on here. However, the Mariners have signed 16 year French pitcher Alexandre Roy, as Baseball America reported Thursday. Roy is left handed, and even at that tender age throws 88 MPH. He is considered a "project", but throws a change-up and a breaking ball, which scouts say aren't bad. They also like his mechanics evidently, and he threw good for the national team when he was just 15, the youngest guy on the team. I guess its a good sign that several other teams wanted him as well (reports are the "Royals, Phillies, Pirates, Cubs, Rays, Yankees and obviously the Mariners") , and he sounds a lot better than the South Korean the Orioles tried to acquire (he threw 80-83 MPH). In the French interview linked to above, Roy says the main reason he signed with the Mariners is because they have other European players. He will go to the Arizona rookie league in July or August, before going back to France to finish high school.
Other Mariners Notes: The Fielding Bible predicts that the Mariners will have the second best defense in baseball, just behind the Rays. I found this strange since the Mariners were 8 runs under average in 2011 according to Total Zone. According to BIS they were 16 runs above average, 5th best in the AL. Defensive statistics are not near as good as offensive statistics are, so it can be hard to judge just how good the 2011 Mariners defense was.
Geoff Baker reminds everyone that Franklin Gutierrez will be out for more than a month. Gutierrez will miss at least the first month of the season.
As the Cactus League kicks off on Friday, the Mariners' pitching lineup (after Blake Beavan starts) is Oliver Perez, Shawn Kelley, Cesar Jimenez, Steve Delabar, Chance Ruffin and Sean Henn.
The A's and Yankees are reportedly interested in Cuban-defector Adonis Garcia, who will most likely sign next week. As we saw with the Yoenis Cespedes signing with the A's (and the Prince Fielder signing with the Tigers), there are always mystery teams lurking in the background. I have no inside information on the Mariners interest in Garcia, but I thought it would be good to profile him just in case. As you can see in this video, Garcia is capable of  making great fielding plays:
The 26 year old spent 2004-2010 in the Cuban National League where he was pretty good, hitting .334/.397/.623 in 2010 (which is pretty much in line with what he did in 2008-2009). For comparison Yoenis Cespedes had a line of .333/.424/.667 in 2011 (similar to his last 3 years). The only real difference (besides some slugging points) is the difference in OBP. This is slightly concerning since Cespedes' biggest question is pitch recognition and patience, but statistics would indicate that he is more patient than Garcia. Cespedes is projected to have a .747 OPS (101 OPS +) according to ZIPS. This same projection would have Garcia at a .676 OPS. Reports are that he would get a 6 year deal worth around 18 million dollars (about 3 million dollars a year, less that Franklin Gutierrez and slightly more than Hong-Chih Kuo, and less than a third of Chone Figgins salary). 3 million dollars is about league average for salary, and it doesn't appear that Garcia is going to be quite league average, at least not initially. Kevin Goldstein calls him a little guy that isn't anything special with some speed and power.
Here is some video on draft prospects I have already talked about on here:
Tyler Naquin running: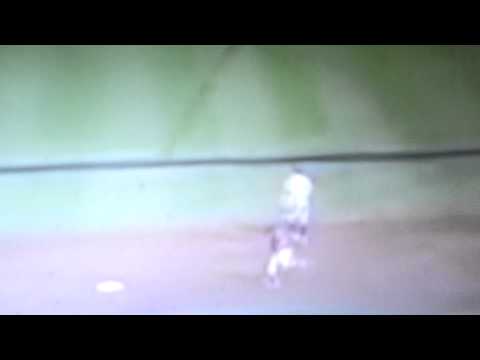 Colin Bear batting:
Here is some video of Martin Agosta, the 69th best prospect in the draft according to scout.com:
Speaking of 2nd round prospects, Fernando Perez is still struggling in Central Arizona now with a .246 batting average, .297 OBP, and .897 fielding percentage.