Jesus Montero had problems playing catcher, with a drop of an easy pop-fly and some problems blocking balls. He eventually left the game after he was hit hard by a couple foul balls in the face. He was walking around after the game and it appears he is okay. Blake Beaven's only K came on a breaking ball looking from Kurt Suzuki on a long at-bat. He also gave up an easy steal from Josh Reddick, base runners were only 6 for 9, a below average percentage, stealing in 2011. He did make a nice fielding play though. He got 8 grounders and only one pop-fly, walking one and striking out one. Oliver Perez got 2 grounders, 1 line drive, and 1 fly-ball in his inning.
Kyle Seager made a nice defensive play only to botch the throw, was ruled a base hit. Munenori Kawasaki went 0-3 with 2 strike-outs seeing no balls and only 7 pitches total. Michael Saunders, Carlos Peguero (he also struck out swinging on all 3 pitches in his first at-bat and had two 1 pitch at-bats. Peguero has huge problems with contact, striking out 63 times in 45 Dominican Winter League games).  Luis Rodriquez, Jesus Montero, and Johermyn Chavez all had homers. The run environment is very friendly, meaning you shouldn't put too much stock in hitter success or pitcher failure. Luis Antonio Jimenez grounded out on 1 pitch in his only at-bat.
The Mariners struck-out 8 times and walked just once (Casper Wells), while their pitching struck-out 5 and walked 2. While they won by 3 runs, they stranded just 4 runners, while the Athletics stranded 16. This could mean several things, but the general sabermetric view is that the Mariners were extremely fortunate.
Other Mariners Notes: For those who didn't know (or care), I also write for other websites, and at FantasyCPR.com we are currently working on team previews for all 30 MLB teams. Here is my short preview on the Mariners.
The Rangers, according to Matt Eddy of Baseball America, have released former 31 first round pick Matt Leeds. I mention this because Matt Leeds has a heck of a bat. At College of Charleston, Leeds had an OPS of 1104. In 44 games at Arizona Rookie League, Leeds had a line of .275/.394/.466 in 2011. He strikes out a lot, with a contact rating of just 28, but has decent patience, rated at 61 (as he walked 13.8% in the minors in 2011). Leeds power, rated at 87, is what is impressive. He had an amazing .333 ISO in college.
Taylore Cherry out of Butler in Ohio:
From Fangraphs: "The right-hander is huge. He is 6-foot-9 and 260-pounds. As you would expect with that frame, his size could scare off some teams, but he is currently projected to be selected in the first round due to a 92-94 MPH fastball with good sink and a potentially plus changeup with good fade. Cherry also throws a curveball, though no scouting report that I read actually likes the overall potential for that pitch." He is committed to North Carolina, and Perfect Game has his fastball listed as 91 MPH on average and 94 at max. He is listed as the 10th best right handed pitching prospect for the 2012 draft by ESPN, with an ability to throw strikes and they like his change-up (even more than Fangraphs). Personally, I actually prefer the monster size pitcher like Cherry, as long as he is able to avoid back problems. I am not a huge fan of his arm slot, as it appears to be pretty low (and it makes me question whether he will be able to add velocity in the future), but his delivery is nice and easy, so it avoids stress on his large frame (it is because of his large body that he is able to have this delivery). It doesn't appear he moves off the mound real well, so defense could be a problem. In just watching video, it appears that his breaking ball is pretty poor, but you would hope that would be something that can develop in the minors. Here is one of several videos of Cherry on YouTube: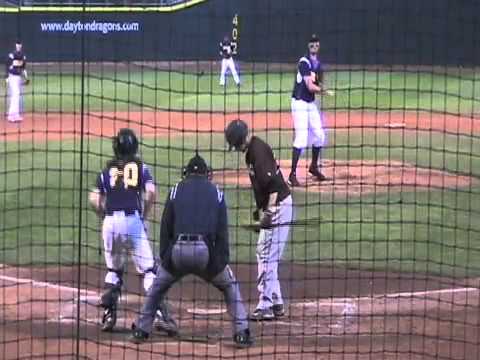 Duke pitcher Marcus Stroman struck out 17 of the 23 batters he faced on Friday night. He hit 94 MPH on his final pitch. Mark Appel reportedly was throwing 96-98 MPH with good breaking stuff, but ended up giving up 7 runs and 2 homers. Both homers were off Aaron Judge of Fresno State. Last year, Judge had a .902 OPS with a good walk rate and pretty high strikeout rate. His batting tool is ranking at 93 with 76 speed and 63 power.