The Mariners played their final intrasquad game on Wednesday. Chone Figgins played CF for Franklin Gutierrez, and had a hit in 3 at-bats. Vinnie Catricala had 2 hits and a walk, as Trayvon Robinson also had a walk but 3 strike-outs, and Carlos Peguero struck out 3 times as well. Brendan Ryan looked healthy, playing a nice shortstop and getting a hit. John Jaso played 1st base, as Adam Moore caught. Dustin Ackley had the only error in the game, with a throwing error. Mauricio Robles struck out all 3 batters he faced, and James Paxton struck out 2 in one inning. Danny Hultzen gave up 2 hits, but struck out two, and Charlie Furbush struck out a batter and didn't give up any hits or walks. Munenori Kawasaki got a hit in his only at-bat, and Taijuan Walker threw a nice inning.
Other Mariners Notes:   Franklin Gutierrez has a partial tear in his pectoral muscle, and will be out for at least a month. This more than likely means that he won't be available for the beginning of the season. Not that Gutierrez is a great player or anything, but it leaves the Mariners with an extremely silly CF situation. Ichiro Suzuki can no longer even play right field competently, Darren Ford has basically no big league hitting experience, and Michael Saunders is one of the worst (actually the worst over the past couple years) hitters in the MLB. This leaves Casper Wells, who can play an average to slightly above average center field (according to runs saved and his minor league range factor) and has hit pretty well in 131 games in the Majors with a 119 OPS + with an offensive winning percentage of .573. His numbers in AAA aren't all that impressive (just barely better than his MLB numbers), and he has a .325 BABIP in the majors, so he is probably due for some regression. Wells profiles as a guy with monster power, and was an absolute beast with the bat in college. It is also worth noting that Johnny Damon is still available at a 5 million dollar price tag (which, as I have argued previously, Damon is easily worth this). The Mariners could use a 5 outfield rotation of Ichiro, Wells, Carp, Damon, and Saunders until Gutierrez gets back. Saunders could be used as a defensive replacement in late innings for Damon, and then optioned (he still has one left) when Guti comes back. Carp and Smoak can split at first, with Montero/Jaso/Olivo splitting at catcher and Montero/Damon splitting at DH. I wish I had this information when I wrote about Jaso yesterday, but Fangraphs has released a statistic that measures how well catchers block pitches. Miguel Olivo is the worst since 2008, and Adam Moore is also extremely low rated. Jaso is also in the negative, but is ranked slightly better than Moore and Olivo. Jesus Montero is slightly positive, but it is a really small sample size. According to Mike Fast's (who now works for the Astros) groundbreaking study last year, Olivo is also slightly negative at framing pitches, Moore is even worse, and Jaso is worse than him. So the Mariners have 3 (4 if you count Moore, but he isn't going to make the MLB team) bad defensive catchers. Olivo recently said about Montero, "He needs to get better at receiving and blocking, and communicate more with the pitchers. It takes time, though. I had the same problems. … That's the thing he needs to go through now. Maybe a couple years, one year and he'll be ready to do it". Statistics say Olivo still doesn't have it down. One option could be to just play Montero at catcher (enhancing his bat value), since they are all bad catchers anyway, find a way to get rid of Olivo, and use Damon as the DH. The point is, there are options.
A couple of days ago, Larry Stone had a great article on all the players from different countries in the Mariners' camp. Here is his list:
"Germany (RHP Daniel Thieben), South Africa (RHP Dylan Unsworth and RHP Dylan De Meyer), Netherlands (OF Kalian Sams, LHP Scott Ronnenbergh, RHP Lars Huijer – but no longer, tragically, Greg Halman, murdered during the offseason), El Salvador (LHP Kevin Quintanilla, RHP Danny Cruz), Nicaragua (RHP Erasmo Ramirez, RHP Hector Hidalgo, RHP Jose Validiva), Colombia (RHP Ivan Julio, RHP Jose Torres, IF Diego Mina), Brazil (IF Pedro Okuda, RHP Thyago Viera, IF Felipe Burin), Aruba (IF Reginald Lampe), Curacao (OF Raysheron Michel, IF Gianfranco Wawoe) and U.S. Virgin Islands (OF Jabari Blash, RHP Richard White, by way of Germany).
(There are also players from Taiwan, South Korea, Cuba, Canada, Mexico and Panama)"
Some players on the list that intrigue me: Dylan Unsworth has a control rating of 98! In 111 innings in Rookie Ball, the 19 year old has walked just 11 batters, or .89 per 9 innings! Even though he has given up a ton of hits in that time, he gets a lot of ground-balls, so it gives you hope that he can live with all the contact he gives up. His K-rate isn't bad for a starter at 7.28 K/9IP (just a 26 K-rating though). His BABIPs have been huge so far, so we will have to see whether its bad luck, bad fielding, or the ball is just getting hit hard. Felipe Burin dominated the Venezulan Summer League for a couple years, and was 2nd in the league in OPS in 2011 (3rd in OBP) and was brought to the Arizona rookie league, where he didn't slug much, but got on base. Reginald Lampe is a similar story, he isn't quite as good, but is on the same path.
Here is a good article breaking down the schedule of the Jackson Generals, the AA affiliate of the Mariners. The Generals went 68-72 in 2011. Vincent Catricala was their best hitter, and should start the year on either the MLB or AAA team.
The Mariners have set their rotation for the first four games of the Cactus League season. Blake Beaven will start the Cactus League opener versus the Oakland Athletics on Friday. Hector Noesi will start Saturday, Jason Vargas will start Sunday, and Hisashi Iwakuma will start Monday. Just as a reminder of the importance of the wins and losses of Cactus League games, the Royals had the best record in the league, while the Diamondbacks were last. However, it is important in the sense that you want to see how pitchers are throwing, player preparation, and to figure out the bottom few spots of the roster.
Here is a good interview in Fangraphs with Tom McNamara, the scouting director of the Seattle Mariners, talking about the draft.
Kyle Hansen of St. Johns:
Michigan State wasn't even close on the fastball, which can reach 95 MPH. The breaking ball he threw occasionally could be for strikes and he got swings and misses on it. It was loopy for a good speed differential. However, he didn't have great control of it. His overall control rating is just 56 according to Baseball Cube, and he has walked 3.51 batters per 9 innings in his first two years at St. Johns. His biggest problem came when he was a freshman, when he gave up 15 homers, or 1.47 HR/9IP (just a 46 rating against power, his worst of the 4 Baseball Cube ratings). As a sophomore, he basically pitched the same (at least that is what his WHIP says), he just eliminated the homers (he just gave up 2 or .17 HR/9IP). If they are eliminated for good, then you have a really good pitcher, with a 82 K-Rating and 87 Efficiency Rating. Hansen was drafted in the 40th round out of high school, but will be a high draft pick in 2012.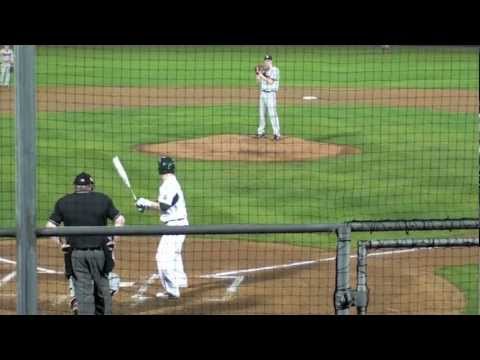 Potential number 1 pick Lucas Giolito hit 100 MPH on Tuesday, when he struck out 8, walked none, and gave up no hits in 6.1 innings.